Back at it
For the first time in my career, I took a relatively extended break from work. I'm just now returning after 6 weeks of being away, so I wanted to share some reflections from my time off.
Here's what I said I wanted to accomplish during my break:
I'm not setting any goals for my break. I'm not trying to accomplish anything. I'm not trying to clear my to-do list. I'm not trying to write a book. I'm not trying to launch a side project. I'm not trying to read a set number of books. I'm just going to be for a while.
By and large, I feel like I accomplished that goal. I was able to be present and go easy on myself. Anytime I'd find myself exerting pressure on myself (my mind saying "you should be doing this" or "I can't believe you haven't done more"), I'd notice it, acknowledge it, and let it go. I got a taste of "Hmm, I wonder what I should get up to today?", which is a truly amazing feeling for someone who's typically at the mercy of a packed calendar.
What I got up to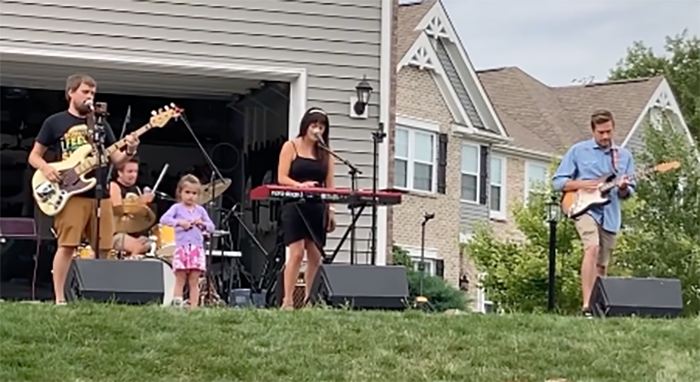 Went on my annual family beach vacation, which is a sacred tradition that I've gone on every year since I've been alive.
Played my first gig in 15 years for my sister's 40th birthday party, with my brother on drums, me on bass, my cousin on guitar, and my amazing wife on keyboards and vocals. On her birthday no less! It was a lot of fun to play music again, especially since we got to play a nostalgia-packed set of some of my sister's favorite songs (including Queen, TLC, and Ini Kamoze)
Worked on my house, pulling up ugly beige carpet, installing baseboards, installing all new door hardware. I've been eager to make our house feel more like ours vs the previous owner, so it was immensely satisfying to modernize things a bit.
Played with my daughter, and got her started in her new year of preschool. It was so wonderful to be able give her my full attention; typically I'm either distracted by Slack messages and calendar invites, or I'm feeling depleted after the workday is done. It felt wonderful to be able to just be with her without having to look at the clock.
Finally got Covid. It was a matter of time. While I merely had a head cold for a few days, my wife got really knocked out by it. While obviously it sucked to get Covid, I'm so thankful there were no trips to the hospital and that we're largely back to 100%. I'm also grateful this happened during my break so I could focus on caring for my wife and taking care of my daughter (who thankfully didn't get it!).
Went to a few concerts, reaffirming the fact that live music continues to be an enormous source of spiritual satisfaction for me.
Read a few books, including some fun ones like Dave Grohl's memoir and the history of salt.
Played a mindless game called Galaxiga on my phone. Historically, I'd beat myself up for allowing myself to waste time like this, but ya know what, it's fun and not every minute of every day needs to be spent being productive.
Observations
I didn't do "it all", and that's ok. There were a million things I wanted to do during my break: record music, walk in the woods, write, work on my website, paint, visit friends, maybe take a trip, and so on. Probably one of my biggest takeaways is that even with "all the time in the world", I still wasn't able to pursue everything I wanted to. Had I not done a lot of active work in this department, I probably would have beaten myself up for not accomplishing more. My eyes are always larger than my stomach, and I suspect the same is true for you. There's truly no way to do it all, and I've learned to embrace my limitations and be grateful for what I did accomplish. Ultimately, I felt the strongest pull to work on my house, which is (perhaps weirdly?) a large source of happiness and fulfillment for me. I'm pleased with the work I did, even though there's still plenty more to do. Isn't that life in a nutshell?
A focus on the self – I wanted to visit friends and get together with family, and while I did a bit of both, I think I really needed to focus on myself. I've been running on empty for a long time, so it was important to focus on my own healing and well being.
The power of rest and unstructured time – Nearly everyone I know — myself included — who takes time off work tries to pack stuff in: trips, projects, etc. I'm certainly not suggesting those things are bad, but I reckon we could all use some unstructured time to just _be_ for a while. This has been an exercise in recharging my batteries, and while everyone's version of that looks different, I've observed most people feeling burnt out and overwhelmed with the act of doing. If I have one piece of advice after my break it's this: give yourself permission to simply rest and exist for a while.
The power of letting go.

I'm beginning to learn that you can't prevent emotions from happening, but you can control whether or not they take control

or exert an undue influence on our lives. A lot of negative emotional forces — guilt, anxiety, shame, annoyance to name a few — tug at our brains. I'm learning that noticing those forces, naming them, and observing them strips them of their power.
I didn't really miss work, but was starting to get close to it. I mainly missed my collaborators (who are also my dear friends!), but generally I didn't feel any real pangs for web development and design system work. That's not to say I don't love what I do or that I'm not eager to dive back in; both of those things are true. But I think my brain needed a palette cleanser after nearly a decade of going full tilt on running my business. I feel good about returning to work and am not alarmed I didn't miss it during my break.
Kinetic energy unleashed – Nearly every day I'd flit around my house doing projects, tearing things apart, putting things together, etc. Contrast this with my day job where I sit at my desk all day. I've never liked traditional exercise, but running around the house tinkering with stuff feels extremely good and natural. I'll be looking for ways to introduce more of that kinetic energy into my work day.
What now?
I'm excited to come back to work. I mentioned earlier how I didn't exactly miss work, but that doesn't mean I'm not looking forward to coming back. I feel like my feet are back underneath me and I'm able to show up for my clients and colleagues. I also feel like I have a better sense of what work unlocks. I have a post-it note on my desk with the following (paraphrased) Aristotle quote: "We work to have leisure, on which happiness depends."
I'm excited to help others attain similar. I have a feeling a break like this is extremely attainable for people other than me. Obviously it is a massive privilege to be able to step away from work for multiple weeks, and I'm extremely grateful for the opportunity. But I feel like for knowledge workers (*groan*) like me, extended breaks can and should happen. Making it happen is largely an exercise in foresight and advanced planning. I've already given some advice to my neighbor who's hoping to take a break next year, and I'm thinking of ways I can help others who are pursuing a bit of a pause.
I'm excited to repeat this. This experience has been very healthy and rewarding, and I now that I've learned I can step away for a bit without the sky falling, I'd like to do this more regularly. I've already blocked off August of 2023 and 2024 in my calendar, and I'll be giving more thought around how to structure this in a healthy, sustainable way that doesn't put an undue burden on the people who rely on me.
Whew! So that's that. I'm excited to come back to my computer with my feet back under me and a healthier head on my shoulders. Feeling good feeling great how are you.